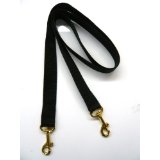 TWO IN ONE DOCK TETHER ACCESSORY STRAP



The Premier Kayak accessory strap is a must for securely attaching your kayak to a dock, tie out, or other kayaks while anchored. Made of durable double wall webbing and brass hardware. Can be used for towing light loads or attaching your kayak to others. Made in USA. Lifetime Guarantee.
High quality webbing dock tie out, accessory strap.
Great for attaching one kayak to another while anchored.
Generous 4 foot double wall webbing designed for outdoor use.
Brass snap hooks great for marine use.
Made in USA. Lifetime Guarantee.
Click Here to Buy